by Keith Chambers, with Ranger Kidwell-Ross, Editor of WorldSweeper.com and Executive Director of the World Sweeping Association.

How Rosmech Environmental Cleansing Solutions Became a Power in the Australian Sweeper Sales Marketplace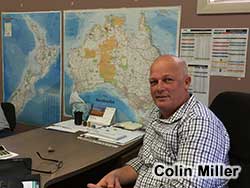 The Rosmech organization, which has its headquarters in Adelaide, South Australia, was initially founded in 1972 by the late Graham Treloar. He sold the company to Miller, Brett Laing, and Mathew Howe in June 2000. (Howe has since left the business.)
At the time of the 2000 sale, Rosmech had one location and 3% of the Australian marketplace for street sweeper sales. Since then, Miller and Laing have expanded the reach of Rosmech significantly. The firm now has facilities in all six Australian states and controls an estimated 60% of the Australian marketplace for street sweeper sales.
Miller's introduction to the street sweeping business was in 1997 when Howe (his business partner at that time) needed someone to assist him applying for a tender (contract) in wastewater management. When they won the bid they went into business as Enviro Sweep.
This first job was to design and produce gross pollutant traps across waterways. These traps would catch silt as well as other organic materials, which would be dumped into a one-ton hopper for disposal at the end of the day. Some days they shoveled three to four tons of silt from their traps, which required stopping work, taking time to empty the hopper, and then restarting work; clearly a tedious process.
As a result, Miller started searching for a time-saving solution. On the way home one day, Miller saw a street sweeper with the sweeper's operators standing over a runoff pit, unloading their day's waste. After talking to the operators, Miller decided a sweeper was what he needed for his business. He got in contact with McDonald-Johnston and purchased a refurbished 400 series Johnston street sweeper, which they operated not as a sweeper, but rather as a four-ton hopper on wheels.
In summer there was no need for Enviro Sweep's waterway traps, so the partners decided to try to make some money with their Johnston sweeper instead of leaving it idle for the season. "Our first question," Miller said, "is how does a sweeper work?" Since Miller's previous career had been as a salesman, he made the effort to figure out how the Johnston worked as a street sweeper with no prior operating experience.
Despite his best efforts and much time spent poring over the operator's manual, Miller says he found it difficult to get the gutter broom system to work and found himself mired down with all sorts of other problems, including troubleshooting water system and pneumatics' issues. His research and calls to McDonald-Johnston's service manager finally provided the knowledge they needed to get their sweeper finally working.
However, when Miller did his first couple jobs with the sweeper he didn't enjoy the experience at all. "My background was as a salesman," Miller said, "so I was used to wearing a collar and a tie; instead, here I am in work khakis and coming home with dust up the nostrils and learning to wash out a sweeper, and so on."
In November 1997, 'amalgamations' within the state of South Australia took place, which is a process whereby smaller cities combine to form a bigger city, meaning local city councils come together as well. At the same time, Australian Environmental Protection Authorities (EPAs) started requiring better road sweeping practices. One such amalgamated entity, the combined City of Norwood Payneham and St. Peters, decided to let sweeping companies submit tenders for street sweeping. "We (Enviro Sweep) had a sweeper (the Johnston 400) and, lo and behold, we won that first tender," Miller said.
However, that's when the problems started: Soon after winning the tender, as a first-time contractor Miller became bogged down a seemingly endless list of problems. First, the city didn't provide Enviro Sweep with a street sweeping schedule that fit the EPA's guidelines, so he had to hire a computer programmer to take care of that. Then he had to figure out what times would work best to sweep the main roads as well as residential areas. After that, he discovered that his single sweeper wasn't able to keep up with the demands of the job, a problem solved through the purchase of another refurbished Johnston 400.
This second Johnston machine was a dual-engine, dual-steering sweeper, which was a change from their flagship sweeper – a single-engine, single-steering machine. As Miller soon figured out, twice the gear meant double the problems. Constantly coping with all the difficulties, Enviro Sweep attempted to complete the workload of the tender.
"The hours were long," Miller said. "I'd come home tired and when I took my hands off the steering wheel I couldn't write with a pen because there had been so much vibration translating through the steering into my hands. I knew… the job of sweeper operation wasn't for me." Miller went back to the city councilors and told them he wasn't the man for the job, which resulted in a councilor reminding Miller: "You're in a contract, son… Suck it up!"
Enviro Sweep decided they'd shop for another street sweeper, as they were putting a lot of hours on their two-sweeper fleet. There was another refurbished Johnston on the market that was five years newer than Enviro Sweep's two Johnston's, but it was in bad condition.
At about that time, a man named Andrew Linscott, a representative of the company that sold Scarab's line of sweepers, Rosmech, came to Miller hoping to sell him a Scarab Major 5000 (The 5000 indicates 5 cubic meters of storage).
A feature of the Scarab, Linscott told them, was it was a single-engine chassis with hydrostatic power. Miller wondered if that meant the Scarab would address a central problem with his Johnston units, which was fuel consumption. His two Johnston sweepers used around 140 liters (about 35 gallons) of fuel every day and diesel prices were on the rise.
The following morning, a demonstrator from Rosmech rode along with an Enviro Sweep operator on one of the company's daily routes using the Scarab Major 5000 instead of their Johnston 400. The route started at 3 AM and usually took until 3 PM to complete, so when Miller saw the Scarab return at 11:30 in the morning he expected to hear they'd had a breakdown. Instead, his operator told him the routes were done and the job the Scarab did of cleaning was fantastic. As one might imagine, salesman Linscott seized this moment to try to close the sale of the Scarab to Enviro Sweep.
Miller said "I told Linscott to cool his jets because before we'd buy anything he had to do the same routes with Enviro Sweep's other operator the next day before I'd consider a purchase." The following morning generated the same result — the routes were swept with hours to spare. Miller called both of his operators into his office to get their input on whether they should buy the Johnston or the Scarab.
"The two operators, in unison, said: 'If you buy the Johnston, we quit." When Miller told his operators that sounded like blackmail, he learned the operators were serious; the sweeper was that much better. So, the company purchased the Scarab Major 5000 and their existing tender went from being an incredibly difficult burden to a manageable task. The tender was soon extended and the company started to also take on other jobs within South Australia.
When Miller told his operators that sounded like blackmail, he said the operators said they were serious; the sweeper was that much better. So, the company purchased the Scarab Major 5000 and their existing tender went from being an incredibly difficult burden to a manageable task. Their tender was soon extended and the company started to also take on other jobs within South Australia.
Miller recalls that he soon began to establish a working relationship with Graham Treloar, founder of Rosmech. The two would run into each other at different trade shows and exhibitions around South Australia and, at one point, Miller told Treloar if he was ever ready to sell the company that he would be interested in being the buyer if he could find a way to afford it.
Soon after, in 1999, the Australian Government introduced a new Goods and Services Tax — a value added tax of 10% on most goods and services. The GST was going to be established as law on June 1st, 2000. Treloar felt like this wasn't for him, so he decided to sell Rosmech before the GST was enacted into law. One evening while Miller was getting ready to leave his office, the phone rang. Miller hesitated to answer the phone, as he was just about to enter his security system's alarm code.
When he made the decision to pick up the phone, on the other end of the line was a realtor, Lin Andrews, who said Graham Treloar was ready to sell Rosmech. Andrews told Miller he was one of three people Treloar was interested in selling Rosmech to, but if Miller wanted to be considered he had to act quickly, because Treloar wanted to sell Rosmech before the GST was put in place.
An appointment was made for Miller and Brett Laing to have a meeting with Andrews. "It was pretty evident that Rosmech had been a good business in the 90s," Miller said, "but in the late 90's it had started to falter. Johnston was giving them a hard time and Schwarze Industries had also entered the Australian sweeper sales' marketplace." At that time, Rosmech only had three percent of the Australian marketplace distributing Scarab and Mobil sweepers (and the latter was getting less and less popular) as well as a few odds and ends products.
Undeterred, Miller's team made it known their intention grow Rosmech, not letting it fade into extinction. After consideration Miller and his investors were given the first opportunity to purchase Rosmech. Miller and Laing were thrilled with the chance to purchase Rosmech, but there were still strings to be pulled to complete the sale. "I went home and spoke to the wife," Miller said, "and told her 'I'm buying this business.' She was quite happy until I told her 'Sign these papers, we're re-mortgaging the house.' That didn't go down too good, as I recall."
That wasn't the only problem with regards to the sale of Rosmech: Because the sale was being completed to principals involved with Enviro Sweep, an existing contractor, there were fears from within the industry that Miller would use Rosmech's existing relationships to generate new business for Enviro Sweep they wouldn't otherwise have. To placate Rosmech's current customers on this point, Miller put in place an edict that Enviro Sweep wouldn't bid on any tenders outside of its current South Australia market until 2010.
A primary focus for Miller and his team became understanding Rosmech from the inside out. Miller familiarized himself with the business of Rosmech – "Pneumatics, hydraulics, electrics, water, fans, suction, operator, cab chassis, service, customer service, spare parts, importing, you name it… the list just goes on and on." Miller also began innovations based on operator and marketplace feedback. One of these recommendations didn't yet exist in Australia, which is that prospects wanted street sweepers with a Japanese chassis, not the traditional European chassis.
In 2003, Miller decided to contact the late Rodger Hoadley, founder of Scarab Sweepers Limited, in 2003. He asked Hoadley to come from Scarab's headquarters in Europe to South Australia in order to discuss the idea of mounting a Scarab on a Japanese chassis. Unfortunately, Hoadley's previous experience with doing so had not been a success. He had attempted using Japanese chassis for a Russian company and neither Hoadley nor the Russian company liked the finished product.
Miller told the iconic sweeper builder that he was confident his team at Rosmech could work with Scarab to make the combination work out. "Hoadley asked me for an empty tumbler and a chair outside; he said he wanted to have a scotch and a cigar while he came up with a plan," said Miller. "After a few fingers of Glenmoran, he came into my office and agreed to work on the project on the condition that one of Scarab's engineers supervise the build in Australia."
Miller got to work on finding a chassis manufacturer who could build a cab chassis that had both left and right-handed controls. He called on Isuzu, Mitsubishi and Hino, who all came back with very different and very polite ways of telling him they couldn't or wouldn't do it.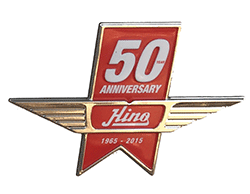 Not so with Dennis Ryan, an employee of UD Hino Trucks. Ryan showed Miller a picture of a dual steer UD in use in America, which Miller liked, so they agreed to work together to manufacture a dual steer cab chassis. Once the chassis was manufactured and the sweeper was installed, Miller drove the finished product back to Rosmech.
"You could have heard a pin drop," Miller said. "Employees were like, 'What has he done? Why would he do this to us?'" Despite the initial hesitation by his team, they got to work to make the new cab-chassis combination into a finished product. "We had a lot of challenges but were able to put our destiny into our own hands."
One of the challenges Miller had was convincing UD Trucks this sweeper combination was a product worth manufacturing. Miller drove his sweeper from Adelaide to Sydney (1,375 kilometers/854 miles) to meet with everyone involved with UD, including its engineers and their distributor, Merubini, whose managing director, Tom Yokohama, was also in attendance. "I was pretty much grilled," Miller said, "and my policy in that sort of situation is to just answer the questions honestly."
After his presentation, Miller looked at Yokohama who hadn't said anything all during the meeting. Yokohama simply asked "How many?" and Miller responded with "First year? Six." Yokohama then agreed to do business with Miller under the impression six chassis would be built in the first year. However, a surprising sixteen orders were placed in the first year, with that number increasing to 33 by the end of 2005. The dual steer chassis started to catch on in Australia as customers started to see more of Rosmech's sweepers in use by others.
Miller was able to put into practice what he had said to Lin Andrews during Miller's initial bid for Rosmech; he took over the company, learned about it until he understood it, and then grew it. Although the Rosmech that was purchased in 2000 was responsible for only about 3% of the sweepers in the Australian marketplace, by the end of 2005 Miller reports that Rosmech was selling about 60% of sweepers in the Australian marketplace.
How did Rosmech get to the top of the Australian marketplace for sweepers? One factor was their long-standing relationship with Scarab Sweepers, which has continued even after the passing of Rodger Hoadley. It also helped that Rosmech had given Scarab permission early on to use any innovations that came up in its manufacturing process in Scarab's other markets (Europe and South America).
"We were also able to put a trust factor into place, because Scarab had figured out that Rosmech wouldn't ask its organization to do anything too out of the ordinary. We only asked them to do what we knew would work," Miller said. "It's been a good relationship with Scarab… not always rosy from our end, not always rosy from their end, I'm sure. However, we find common ground and we work well together."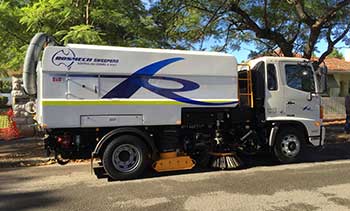 Another factor, according to Miller, has been the Rosmech Team's willingness to show potential buyers the product in person, no matter how far away they are. Miller and his team travel about 40 weeks every year with their product in order to give their customers confidence in what Rosmech sweepers can do. Miller says he tries his best to set the example – he's always been willing to make a long distance drive to make a sale and he's confident his staff can continue to do that. "If I can get in the vehicle – I tell my other sales people – leave my family, and drive 2,000 K's (kilometers/1,200 miles) and spend a week and see two customers or ten customers, then surely you can."
By Miller's own admission, he doesn't know if there's any secret to his success other than trying to treat people how he wants to be treated. "If you answer the phone and handle yourself appropriately," Miller said, "then you've got a better than 50-50 chance of having a customer that will deal with you. And that's what we look for."
Sweeper operators are also extremely important to Miller, maybe even more important than the actual buyers, because "If the operator doesn't like it (the sweeper), he won't look after it, he won't operate it appropriately, and… then it's not a good success with that particular operator." If you can get the operator comfortable in the sweeper, Miller says, they'll give you good feedback and as long as you take feedback positively, you can say to them 'Version two, we're going to change that!' "At the end of the day, the operators will tell us whether we've got it right or wrong."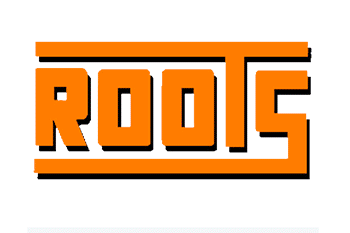 Rosmech is currently undertaking another venture into the street sweeping market by releasing a regenerative-air sweeper in addition to the traditional Scarab vacuum-broom systems they have made their name with. At the time of this interview Rosmech had recently launched their first regenerative sweeper, their R6 series, which is a 6 cubic meter regenerative air machine manufactured by an experienced worldwide equipment manufacturer in India, Roots Multi Clean.
The Roots organization already makes smaller sweepers, scrubbers, pressure washers and, perhaps most notably, between 6 and 7 million vehicle horns per year that are sold in 64 countries around the world including Australia and the U.S. In the United States, Roots Multi Clean horns are sold under the Bosch name as well as installed on all Harley Davidson motorcycles.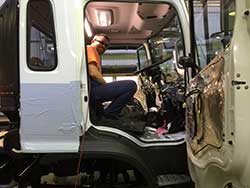 Rosmech's R6, which is being assembled by their employees in Australia, can be mounted on either an Isuzu or Hino chassis. The Rosmech R6 sweeper was showcased for the first time in the Australian marketplace at the 2016 Civenex tradeshow. Utilizing the feedback they received, an R6 has now been built for demonstration throughout the Australian marketplace. "We won't win them all," Miller said, "no way no how will we win them all. But they'll start to know about the regenerative air power of the Rosmech R6 and, when they see how well it performs we'll get more opportunities."
Since Rodger Hoadley's passing, Scarab has been acquired by the Fayat group. The shift to regenerative air sweepers in the Australian marketplace has been surprising to Scarab Fayat because there's no regenerative air sweeper market in Europe to speak of. Scarab Fayat manufactures sweepers primarily for the European marketplace, which is currently satisfied with vacuum broom sweepers.
That is the reason why Roots Multi Clean is making the R6 sweeper instead of Scarab. By contrast, in Australia most of the new requirements for contractors to get awarded tenders are based around them using a regenerative sweeper. "It seems that all the councilors I'm calling on now, even they know I've been only a representative of Scarab's vacuum broom, are all talking about wanting a regenerative air machine."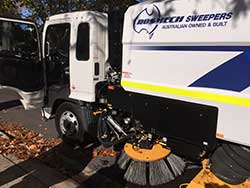 An example of the emerging process of preferring a regenerative air machine is shown in the process of getting a tender: A contracting company puts a tender together, which usually takes an entire business day. The tender then gets sent from the contractor to the bidding company's fleet manager. If the contractor tender is determined to be non-conforming and the contractor doesn't have a regenerative air sweeper in their fleet, the contractor won't get the tender and that means they wasted their time putting the tender together.
If it's non-conforming but the contractor has a regenerative air sweeper, the bidding company is more likely to request a demonstration of the sweeper than to reject the tender outright. When asked if this would potentially cut into Rosmech's existing marketplace, Miller said his hope was Rosmech would now be able to get into markets they hadn't been able to penetrate before.
With the current marketplace demanding regenerative sweepers, Miller thinks he has a leg up on Johnston and Schwarze Australia's regenerative sweepers. That's because he saw what those companies did in their first regenerative sweepers and has been able to make changes based on what he had seen.
"The reception we got at Civenex was a good starting point for the work we still need to do," said Miller, "in order to learn the regenerative air market, understand it and then grow into it. I'm a novice at the regenerative machine so I'm looking forward to sitting my derriere in it and seeing how it performs. Once that actually happens, I know my mind will start to kick into gear and I'll start to look into those sales discussions we might need to use to convince the customer that the Rosmech machine is the better way forward."
Once Miller's team gets a better understanding of the regenerative air sweeper market, it is his hope he will also be able to further serve his customers through service technicians who are trained in both mobile mechanical sweepers and regenerative sweepers. That means he'll be able to answer more types of service requests with a simple "Yes" instead of referring the service call to another company.
Miller and his team have grown Rosmech from having one location in Adelaide to a nationwide operation – they now have a store with sales and service staff in all six Australian states and the company currently employs about 70 people. In addition to importing sweepers for the Australian marketplace, Rosmech also refurbishes used machines for resale.
Our focus, says Miller, isn't to sell a used street sweeper as fast as we can. Rather, we want to do what it takes to give a street sweeper the best chance of having a good second life. Plus, some of the sweepers can be used by their affiliated contracting company, Enviro Sweep, which has locations in four out of the six Australian states.
It has been an interesting journey for Miller and he has come a long way from being unable to operate a pen after concluding his day's work and wanting to bail out on an early contract. After learning so many things about the street sweeping industry, Miller has left himself a little room for levity: "Only when you're in the air sweeper business do you appreciate, 'When they don't suck, they suck!'" And if a sweeper doesn't suck, Miller and his Rosmech team sound like they have a solution to whatever crops up in their Australian marketplace.

Keith Chambers is a freelance writer and sports aficionado who is an occasional contributor to WorldSweeper. He wrote this article from an audio interview conducted with Colin Miller by WorldSweeper's editor, Ranger Kidwell-Ross, in May of 2016. Keith resides in Bellingham, Washington.