by Ranger Kidwell-Ross, Editor of WorldSweeper.com and Executive Director of the World Sweeping Association.
A Continuation of Australia's Civenex 2016

After devouring another meat pie (or was it two…) and a large coffee, off we went in the rental car for the short jaunt to the Hawkesbury Show Grounds for day #2 of Civenex.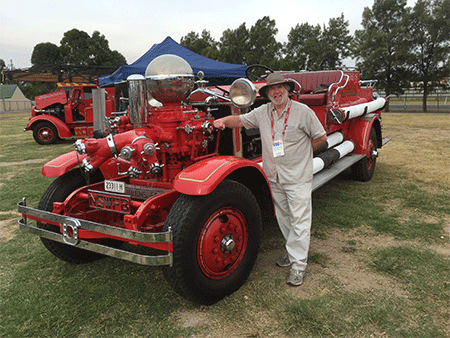 We went a few minutes early because I wanted to get an up close look at the vintage fire engine display I'd glimpsed off to one side the previous day. These wonderful old fire trucks were apparently stored at the Hawkesbury Show Grounds throughout the year and were part of the Classic and Antique Truck Show held there every year. Hard to believe from this vantage point, but I WAS once a kid who, like all the other boys I knew, loved fire engines.
By this time I knew my way around the show and had also pre-arranged for a couple of the interviews I'd be doing that day. One would be with Glen Miller, who'd agreed to do a walkaround of the Australian Schwarze A4000 that Schwarze Industries Australia had on display. I also had a video shoot planned with James Daniels on another of ACS' interesting models, as well as with Bucher and a new entrant into the Australian sweeper marketplace, a regenerative air sweeper by a company called Rosmech. It promised to be a great day.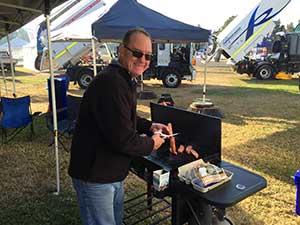 In fact, the folks at Rosmech had told Malcolm that if we got there in time we could join them in some sausage biscuits scheduled to be cooked over their barbecue that morning. Although not particularly hungry after my meat pastries, I felt sure I could whip up enough of an appetite to eat at least one. After all, traveling makes a person hungry, right?!
After a quick bite I headed off to catalog some more sweeping products for you.
---
The nearby Schwarze booth was busy so I kept moving on to that of Bucher municipal, which had a substantial footprint at the show. There I found Wayne Hogan was able to offer me a tour of the features and benefits of the Bucher RT655. Click on the opening panel below to view on this page or click here to see it about 2/3 larger directly at YouTube.com.
---
By this time Schwarze's Glen Miller was able to provide an informational walkaround of the Schwarze A4 Storm they'd brought to the show. Many of our viewers will be familiar with this Schwarze product but it's fun to see it in the context of being on the other side of the planet, eh?! Click on the opening panel below to view on this page or click here to see it about 2/3 larger directly at YouTube.com.
---
I caught back up with James Daniels at the Applied Cleansing Solutions booth. This time, he'd be showing us their company's 'Glutton' machine, which is a slick small unit that is designed for someone walking to guide around even the most congested of pedestrian areas, cleaning as they go. Click on the opening panel below to view on this page or click here to see it about 2/3 larger directly at YouTube.com.
---
Ron McLean, of Rosmech Cleansing Solutions, provided us with a walkaround of two of their company's sweepers. The first is the Scarab-built Merlin model, which is a single-engine, hydrostatic-operated sweeper. The machines in the Scarab sweeper line are quite popular in many parts of the world but haven't been imported to the U.S. marketplace. Click on the opening panel below to view on this page or click here to see it about 2/3 larger directly at YouTube.com.
---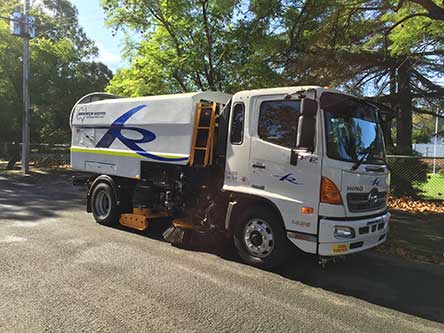 By this time it was getting to be late in the day and vendors were starting to pack up their booths. Unfortunately, although we had filmed a walkaround of Rosmech's new entrant into the regenerative air marketplace in Australia, the footage ended up corrupted for reasons unknown. So, instead I've provided a photo of Rosmech's R4 to whet your appetite.
Fortunately, the Rosmech headquarters would be one of our later stops while in Australia. We'll have a demonstration of their R4 machine actually sweeping later on in our coverage.
---
That ended my great enjoyment of Civenex 2016. With Malcolm at the wheel of the rental car, we headed toward the airport for a flight to his home near Brisbane. He'd promised some sight-seeing over the weekend before we took off once again for Adelaide on the next stop of my Australian tour.
One nice thing about flying along with sky warrior Malcolm was that he was a Platinum Member of Virgin Airlines' mileage club. This provided him and any traveling companion (me!) with access to what I learned were fabulous hideaways in which to wait for one's next flight. Not only was internet access provided, along with soft chairs and/or desk space, if needed, but offerings included enough food for weary tradeshow attendees to call a full meal, including packets of that staple of Australian cuisine, Vegemite. As for my more American palate, the large vats of fine chocolate packets strategically placed on the way out to one's flight were more to my liking.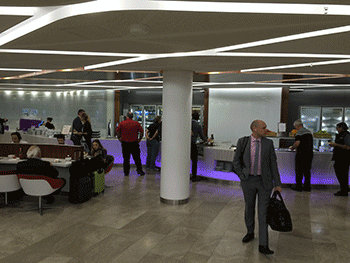 I hope you enjoyed your views of the Civenex 2016 tradeshow as much as I enjoyed bringing them to you. Next you can move on to the remainder of the Australia sweeping adventure before we travel on to India.
Before you go, perhaps you'd like to see a slideshow of some of the various photos I took at Civenex over the course of the two days I was there. If so, use this link (opens into a new window).
Or, perhaps you'd like to take a look around Sydney Harbor. If so, courtesy of Tony Evans, who shared the photos he'd taken from his boat a few days previously, we have this slideshow link (will open into a new window).
Then, use the 'Next Communique' link to learn more about the Australian power sweeping industry and the professionals who are involved with it.