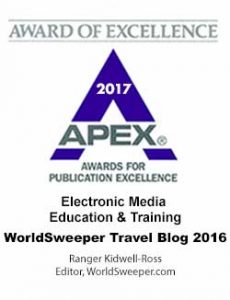 In July of 2017, this WorldSweeper.com Travel Blog about the sweeping industry in India was awarded an APEX Award for Publication Excellence, which is a national writing award in the United States. We want to thank everyone who made this trip possible, as well as those who provided material for the blog entries.
We especially want to extend our heartfelt thanks to Malcolm Cameron, Ranger's guide and inspiration throughout his time with those in the power sweeping industry in India.
---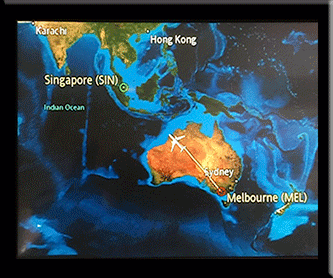 by Ranger Kidwell-Ross, Editor of WorldSweeper.com and Executive Director of the World Sweeping Association.
Author's Note: The stories in our 2016 Odyssey to India are date-stamped so as to reflect the time of the actual visit. However, all were written in September 2016 from my notes and via using the photos and videos I took on the trip.
Leaving Australia, my next destination was Coimbatore, India, where my traveling partner, International Sweeping Consultant Malcolm Cameron, and I would visit Roots MultiClean. Roots is the company building the Rosmech R6 sweeper for the Australian marketplace. However, Coimbatore lacks a major international airport. To get there from Melbourne, Australia, Malcolm and I needed to make a stopover in Singapore, an 8-hour flight.
Malcolm and I had both been in the Singapore airport previously, so we knew it was one of the most beautiful in the world. As a result, we had planned our itinerary to include several hours to wander around.  For example, it's not often that you find an airport that includes something like an orchid garden, as well as such a multitude of beautiful plantings, some of which you will see in the photos further down the page.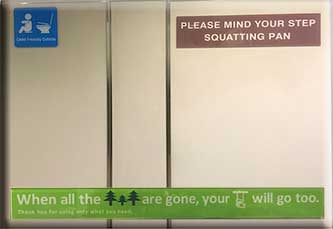 My first visit to the airplane's restroom reminded me that I was in the midst of an exotic journey. Passengers were presented with two choices: one with traditional Western-type restroom facilities that was labeled as more 'child-friendly,' and another that was outfitted with an Asian-type 'squatting pan.' Knowing I'd have plenty of time to adjust to squatting later on in my trip, I chose the former. In keeping with Singapore's extreme emphasis on environmental issues, I found the reminder that "once the trees are gone so will your toilet paper too" quite in keeping with that country's government.
The Singapore government gives extreme emphasis to environmental issues. You may not realize that Singapore is an island, a city and a country, all wrapped into one. I had been there several years previously when I had met with the Ministry of Health to discuss their sweeping program. At that time I had found the city to be one of the cleanest I've seen in the world; however, that trip had shown Denmark to be as clean without mandating such edicts as not allowing the use or importation of chewing gum.
Singapore's stated goal, the Health Ministry officials had told me at the time, was to become completely self-sustaining. This would include such items as recycling their water, in part by cleaning wastewater enough to allow it to be reintroduced as a source of drinking water.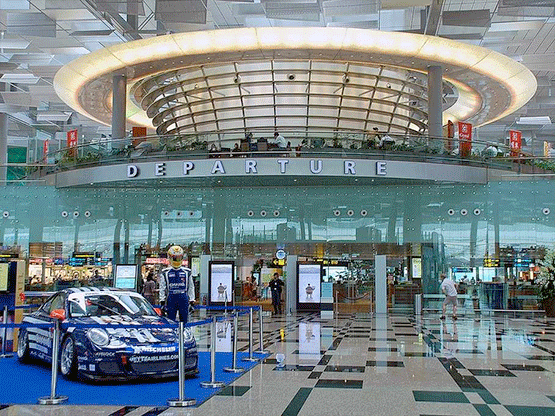 When we arrived at Singapore's Changi Airport, it was immediately noticeable that the air was warmer and more humid than at many of the other airports I'd passed through. It seemed that the air itself was thicker and cleaner than 'regular airport air.' Plantings were everywhere, including in featured central areas designed just for such displays. This seemed to motivate people to carry on a more languid pace, certainly different from that seen at most airports.
The many flowers in evidence also contributed to the scent of the blossoms wafting through the air as we explored some of the different areas inside. Even the shops seemed better designed and cleaner than those typically found in such facilities. About three hours of our four-hour layover went quickly before we tired of the views and headed off to take advantage of Malcolm's frequent flyer status with Virgin Airlines.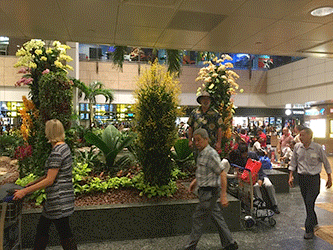 We ate some complimentary food in Virgin Airline's beautiful frequent flyer customer lounge and then checked and responded to our respective email streams on the fast wi-fi. Refreshed and relaxed, we headed out for the last, four-hour, leg to Coimbatore, India. I realized that the several days I have had at Malcolm's has allowed me to refresh both my body and my general outlook. Although I really didn't know what to expect as I headed to India, I felt up to the task of whatever lay ahead.