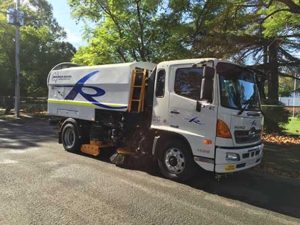 by Ranger Kidwell-Ross, Editor of WorldSweeper.com and Executive Director of the World Sweeping Association.
Demonstration of the Rosmech R6 Regenerative Air Sweeper
About half an hour after we arrived in the designated neighborhood — just enough time for Malcolm to explain for us the nature of sweeping London Plane Tree debris before the sweeper got there. Colin Miller met up with us in Rosmech's new product for the Australian market, its R6 regenerative air sweeper.
I thought the sweeper had good lines and especially liked the way the sidewalls were made to stiffen the hopper. Only time will tell if this is a design that will hold up in the long run. Although Miller had noted after leaving the shop that there was a minor leak in the dust suppression system, that wouldn't be a factor since this would only be a relatively brief demonstration and a full day's water supply wouldn't be needed.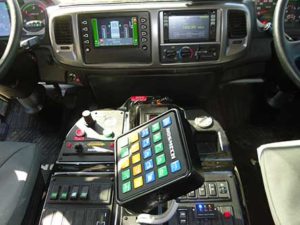 Looking inside the cab of the machine, the control panel appeared well laid out and easy to understand. The UD Hino cab also offered good visibility for the operator and, according to Miller, was quite comfortable. This is especially important in Australia where contractors often have to go many kilometers between stops. The viewscreens offered a variety of viewpoint information and could be modified to suit a purchaser's needs, he told me.
The neighborhood Miller had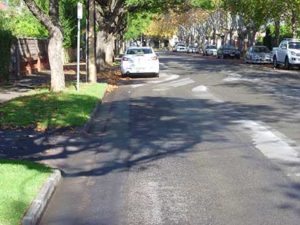 chosen appeared to offer a good test of the company's first-ever regenerative air machine. Leaves and dirt were thick in the curbline and, fortunately, there were few parked cars. However, as you can see by the photo that shows the clean curbline except for where the car was parked, it is vitally important for municipalities to have a car removal program during sweeping if they're after a good sweep.
As is widely known throughout the contracting industry, each parked car actually represents at least three parking spaces that cannot be swept. That's because the sweeper must go out around the car in order not to hit it, then leave another car length space in the front for the same reason. That adds up to a significant unswept area, especially if stormwater runoff or keeping storm drains from clogging is one of the goals of the sweep.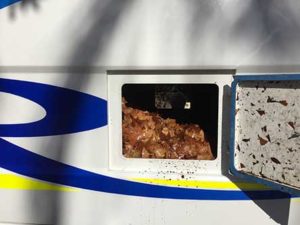 As you can see in the photo to the left (as well as in the video shown below), the sweeper handled the London Plane Tree leaves quite well. Before long the hopper was filled with them, as well as the dirt and rocks that lay underneath the carpet of leaves in much of the area. For our readers I videoed the demonstration and offer a somewhat edited version below. I'm sure you'll enjoy it!