by Ranger Kidwell-Ross, Editor of WorldSweeper.com and Executive Director of the World Sweeping Association.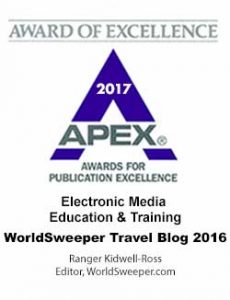 In July of 2017, this WorldSweeper.com Australian Travel Blog was awarded an APEX Award for Publication Excellence, which is a national writing award in the United States. We want to thank everyone who made this trip possible, as well as those who provided material for the blog entries.
We especially want to extend our heartfelt thanks to Malcolm Cameron, Ranger's guide and inspiration throughout his time in Australia.
---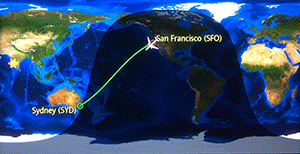 Heading to Australia
After months of discussion and weeks of planning — think: getting a myriad of shots (for India) and then leaving your business, home and acreage for over a month — the day of departure finally arrived at the end of May 2016. After an hour-and-a-half shuttle bus to Seattle's SeaTac Airport, the first flight was to San Francisco. Then, off I went on the 15-hour nonstop to Sydney, Australia.
In Sydney I'd be meeting up with my old friend in the sweeping industry, Malcolm Cameron, who I'd had a similar adventure with in 2003 when we met up in London for an investigation of sweeping methods in the U.K. and Scotland, including a trip to Scotland's ASME (Association for Public Service Excellence) tradeshow.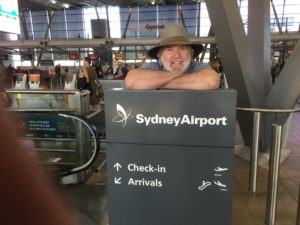 The plan was for me to meet Malcolm at the Sydney Airport, where we'd rent a car and head off to the largest tradeshow for power sweepers and related equipment, called Civenex, held in his home country of Australia. The show was conducted, he'd told me, both indoors and outdoors, since the weather in the Sydney area in this time of year was generally mild and sunny. The rare outdoor-oriented tradeshows I'd seen in the U.S. had always been my favorite, so that was an aspect I was definitely anticipating.
Except for being excruciatingly long, the flight to Sydney was uneventful and I arrived, if not exactly 'bright-eyed and bushy-tailed,' ready and eager to learn about the latest in sweeper technology and methodology on the other side of the world from my home U.S. It was early morning in Sydney when I arrived, so I was glad to have gotten some sleep on the plane.
I learned from Malcolm that I'd made a rookie mistake when I entered customs, though: I'd not thought to mention that I still had an uneaten apple in my carry-on. Australia, it turns out, is extremely fussy about bringing in fruit from other areas, which I mention as a reminder to others headed to that beautiful land.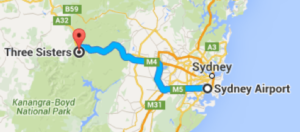 It was only about 60 km to The Hawkesbury Show Grounds, which was our destination for the Civenex tradeshow. However, since we'd planned the trip to allow for getting over my jet lag, the show didn't start until the next day. So Malcolm, ever the gracious Australian host and tour guide, headed us up into the Blue Mountains to one of the area's most spectacular geographical landmarks, the Three Sisters. Located 115 km away at Echo Point Katoomba, in the Kanangra-Boyd National Park, this proved to be both a beautiful drive and a spectacular destination point.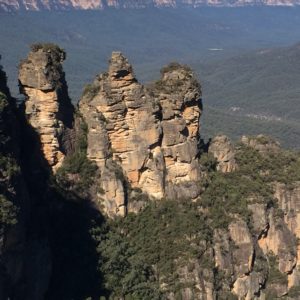 The Three Sisters is essentially an unusual rock formation representing three sisters who, according to Aboriginal legend, were turned to stone. The character of the Three Sisters changes throughout the day and throughout the seasons as the sunlight brings out the magnificent colors.  Each of the Three Sisters is just under 1,000 meters tall.
The Aboriginal dream-time legend has it that three sisters, 'Meehni', 'Wimlah' and Gunnedoo' lived in the Jamison Valley as members of the Katoomba tribe. These beautiful young ladies had fallen in love with three brothers from the Nepean tribe, yet tribal law forbade them to marry. The brothers were not happy to accept this law and so decided to use force to capture the three sisters causing a major tribal battle.
As the lives of the three sisters were seriously in danger, a witchdoctor from the Katoomba tribe took it upon himself to turn the three sisters into stone to protect them from any harm. While he had intended to reverse the spell when the battle was over, the witchdoctor himself was killed. As only he could reverse the spell to return the ladies to their former beauty, the sisters remain in their magnificent rock formation as a reminder of this battle for generations to come.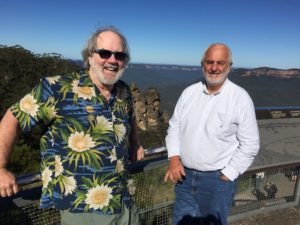 Our sight-seeing tour concluded we headed back toward The Hawkesbury to get ready for the opening of the Civenex tradeshow the next morning. By that time my jet lag was, indeed, catching up with me in any event. I went to bed that night thinking of the amazing world in which one can get into a large, mostly aluminum, container with several hundred other people, travel to over six miles up in the air and then proceed at @ 600 mph for 15 hours without stopping, in order to reach the other side of the planet. What an era in which to be alive!
While I know you're excited about getting to Civenex, doesn't it make sense to first learn a little about where in Australia is actually swept? Our Australian host, Malcolm Cameron, is just the person to provide all the details in the informative video linked below.